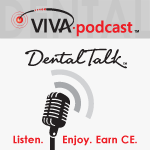 Series: Centrix
Guest: Dr. Marian Fanica
CE Credits: 0.75 CEU
Release Date: 8/14/2019
Dental podcast hosted by Dr. Phil Klein: This Viva Podcast will discuss the science behind making core buildup more predictable. Our guest is Dr. Marian Fanica, an international lecturer and hands-on dental trainer in Europe and Asia. Dr. Fanica's professional memberships include: The European Association of Osseointegration, The Society of Esthetic Dentistry in Romania and The Dentistry National Organization in Romania.
Please
Log in
to take exam and earn CE credit.
Understanding the Science Behind Making Your Core Buildup More Predictable
8/14/2019 - CE Credits: 0.75 CEU
(
Take Exam
)
Are Your Post and Core Materials Compatible?
8/14/2019 - CE Credits: 0 CEU
View All Episodes from this Series »